Meet Azure Data Share
Microsoft just announced Azure Data Share preview, but what exactly is it? Check it out here...
Tweet
---
Microsoft just announced Azure Data Share preview, but what exactly is it?

Surely we've been sharing data using One Drive (and other similar solutions) for a good few years now. Well yes, and while that is true the Azure Data Share is aimed at giving us much more than that.

In it's current form, Azure Data Share allows us to share Azure storage (Blob) with external parties. The idea here being to allow an external party to securely access your blob storage without exposing the whole blob to the public internet. The idea also being that I am able to share blob content such as Logs, web content… and not just pdf, office, jpeg files….that I would usually share using my OneDrive account.

The external party also needs to be an Azure "user" with his/her own tenant. Once shared the external party can access and sync blob content via the Azure portal.
The scenarios here are pretty compelling:
setup a shared storage for partners with prices lists, information, results…

Retailer sharing point of sales information with vendors/suppliers

allow clients a secure way to access information processed by you

Create a Data Marketplace for research

Share log files with external developers

Data providers are always in control of the data that they have shared. Azure Data Share makes it simple to manage and monitor what data was shared, when and by whom.

Once shared the data is "snapshot-ed" to the external party either on a daily or hourly basis. Allowing you to choose the update frequent of the share with the 3rd party.

At the time of writing this Azure Blob Storage and Data Lake Storage are supported, in the coming months we are going to see additional data sources added to the support list.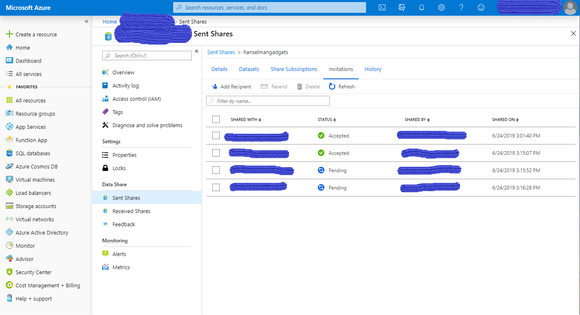 comments powered by

Disqus